As we go about our lives every day, a crucial part of our homes and buildings sometimes escapes our notice: the doors. Doors safeguard our loved ones, valuables, and precious memories by serving as the entryway to our personal places. 
However, in the midst of our bustling routines, we often forget the vital role that doors play in ensuring our safety and comfort. But why is it critical to arrange regular door maintenance?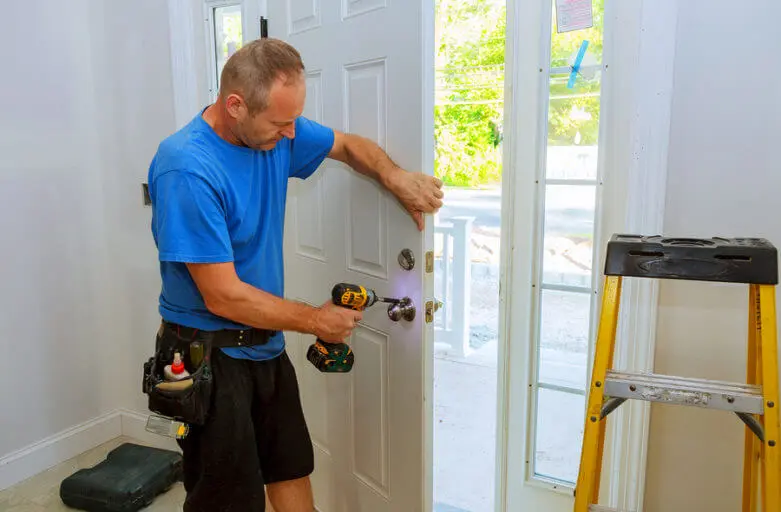 Safety First: Keeping Your Loved Ones Protected
One of the most essential motives for keeping doors is to protect our loved ones and valuable items. A well-kept door serves as a significant deterrent to break-ins and incursions. 
Regular inspections of locks, hinges, and frames help detect flaws that might jeopardize your property's security. Furthermore, investing in high-quality door hardware and making essential modifications will strengthen your door's security features, giving you and your family peace of mind.
Energy Efficiency: Reducing Costs and Environmental Impact
Did you know that doors impact energy efficiency in homes and buildings? Well-maintained doors help keep the elements at bay, avoiding drafts and energy loss. 
Effective weather stripping and adequate door sealing, including Apartment Door Repair, are critical for maintaining a comfortable indoor environment while lowering heating and cooling expenses. Through scenarios, we'll look at real-life instances of homeowners, including those in apartments, who have seen significant energy savings when their doors are maintained regularly.
Durability and Longevity: Maximizing the Lifespan of Your Doors
Failure to perform regular door maintenance can cause premature aging of various door materials such as wood, metal, and fiberglass. Over time, exposure to the environment, moisture, and debris may end in permanent damage. 
Regular upkeep may provide expert advice on cleaning, painting, and staining your doors to prevent them from wear and tear, consequently extending their lifespan.
Enhancing Curb Appeal: Keeping Your Doors Welcoming
Your doors' look may have a big influence on the overall aesthetics of your house. First impressions are important, and a well-maintained door may improve the curb appeal of your property. 
Preventing Costly Repairs: Addressing Issues Early
Ignoring small door difficulties might lead to huge ones in the long run. Maintenance mostly inspects door issues including noisy hinges, misalignment, and water damage, as well as how to detect these problems early on. Timely repairs will help you avoid more significant and costly repairs in the future. You can keep your doors in good working order and save needless difficulties and expenditures by addressing issues as they emerge.
The value of regular door maintenance cannot be overstated. Whether it's addressing minor issues quickly or delegating the duty to qualified door professionals, proactive door care is an investment that pays off generously. Remember that a small action today could lead to a big difference tomorrow, ensuring your doors stay for years.
DIY vs Professional Maintenance – Knowing When to Seek Help
Door maintenance has two options: do-it-yourself or hire a professional door expert. DIY maintenance is appropriate for minor chores such as cleaning and lubricating hinges, but it may lack the thorough skills required to diagnose underlying issues and give long-term solutions. 
Door professionals, on the other hand, have the requisite abilities and experience to conduct full inspections, handle complicated problems, and propose appropriate repairs. Their professional training assures that they follow industry standards, enhancing the safety and efficiency of your doors. 
Entrusting your door repairs and maintenance to experienced specialists saves you time, and ensures that your doors are well-cared for, extending their lifespan and, ultimately, adding to overall safety and security of your property.
Rochester Door Company – Your Trusted Partner for Door Maintenance Excellence
Look no further than Rochester Door Company in your quest to prioritize regular door maintenance and glass door repair. We are the trusted experts who stand ready to help you. With an established track record of quality and a staff of trained door specialists, we are dedicated to providing outstanding service and assuring our client's complete satisfaction.
With Rochester Door Company, you get a wealth of expertise and experience that ensures your doors' long-term performance and durability. Our thorough inspections, prompt repairs, and high-quality renovations will strengthen the safety and efficiency of your space, providing you with the peace of mind you deserve. 
Don't wait until a minor issue becomes a major problem – safeguard your assets and loved ones by entrusting your door maintenance to the specialists at Rochester Door Company.