electric sliding automatic door installation and repair in Rochester NY
At the Rochester Door Company, we are no stranger to integrating technology within our products. Our electric sliding automatic doors are perhaps the best example of that.
With rising modernization, we realize that certain situations call for something that is a little apart from the traditional norm, which is why we keep up with the times and update our products on the go. Not only are our automatic sliding doors designed to transition smoothly, but they do so at a fast speed, making for efficient door usage.
Our complete range of automatic sliding door services include
By dealing with the complete automatic sliding door process, from manufacture to installation, we make sure that our customers are not troubled in any way as we are always there for them.
Rochester's Finest Automatic Sliding Door Dealer!
There is no doubt about it. We at the Rochester Door Company are surely the best automatic sliding door service provider in Rochester, New York. Sounds like a tall claim to make, does it not? Well, let us tell you why.
Not only do we exclusively use only the top-grade materials in the manufacture of our automatic sliding doors, but we also employ highly skilled workers to make sure that product execution does not compromise on quality.
What is more, our valued customers are granted freedom in the selection process wherein they can choose a door from our pre-made range of automatic sliding doors or opt for a custom-made one that better suits their taste and complements their building.
our excellent repair and maintenance services
And this is not where our job ends. We strive to ensure that our products last a lifetime which is where our excellent repair and maintenance services come in. Whether your door is standing on its last legs, or you just want to be careful and take preventative measures, the Rochester Door Company, is the place to go!
We deal in the following types of automatic sliding doors:
With each type built to facilitate a different building design, there is no individual that would be left wanting something they cannot find. After all, at the Rochester Door Company we vow to serve each of our valued customers every single time.
What Makes Our Automatic Sliding Doors Stand Out?
Using high-quality materials and skilled workers in the production and installation process of our automatic sliding doors is one thing, but what is it that really makes our doors stand out?
Well, it is their stylistic beauty of course. Constructed from premium quality glass and metal, the doors are a real sight to behold. In addition to that, they also move efficiently, perfectly complementing your fast-paced workplace.
For more details, just hit us up at (585) 505-8555!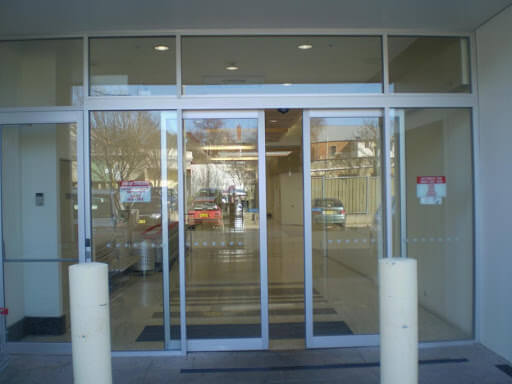 Operating as a door repair and installation company, we at the Rochester Door Company are masters in solving all kinds of door-related tasks. Equipped with the best of the best, whether that is our team or materials, we strive to offer quality service to our valued customers. Situated in Rochester, New York, we are available to serve you 24/7, just give us a call!