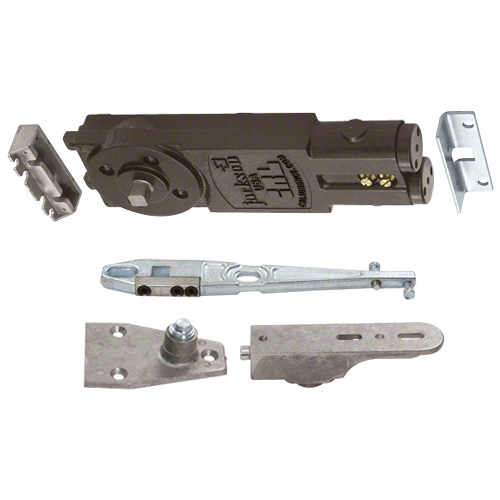 The CRL Jackson 21201 Series
 Overhead Concealed Closer with "P" Offset Slide-Arm Hardware Package consists of a Spring Power Adjustable Closer mechanism, which depending on the selected spring size and closer function, is suitable for a range of doors from 30 inch to 42 inch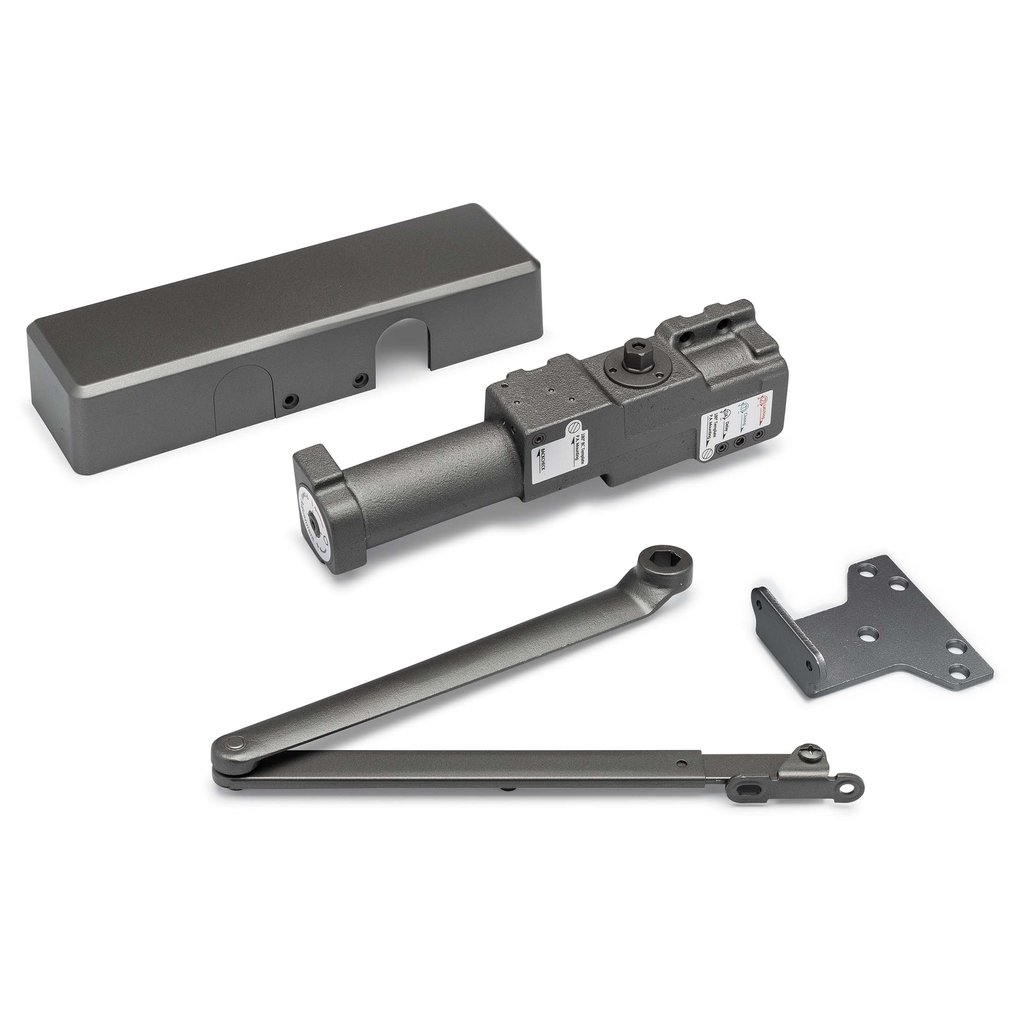 Hydraulic Door Closer Is 156.4 Grade 1 ANSI Certified And UL 10C
ADA Compliant.
Adjustable Power Size 1-6 Requires Less Than 5 Pounds Of Force To Open.
Standard Features Include: Adjustable Sweep, Latching. And Back Check Speeds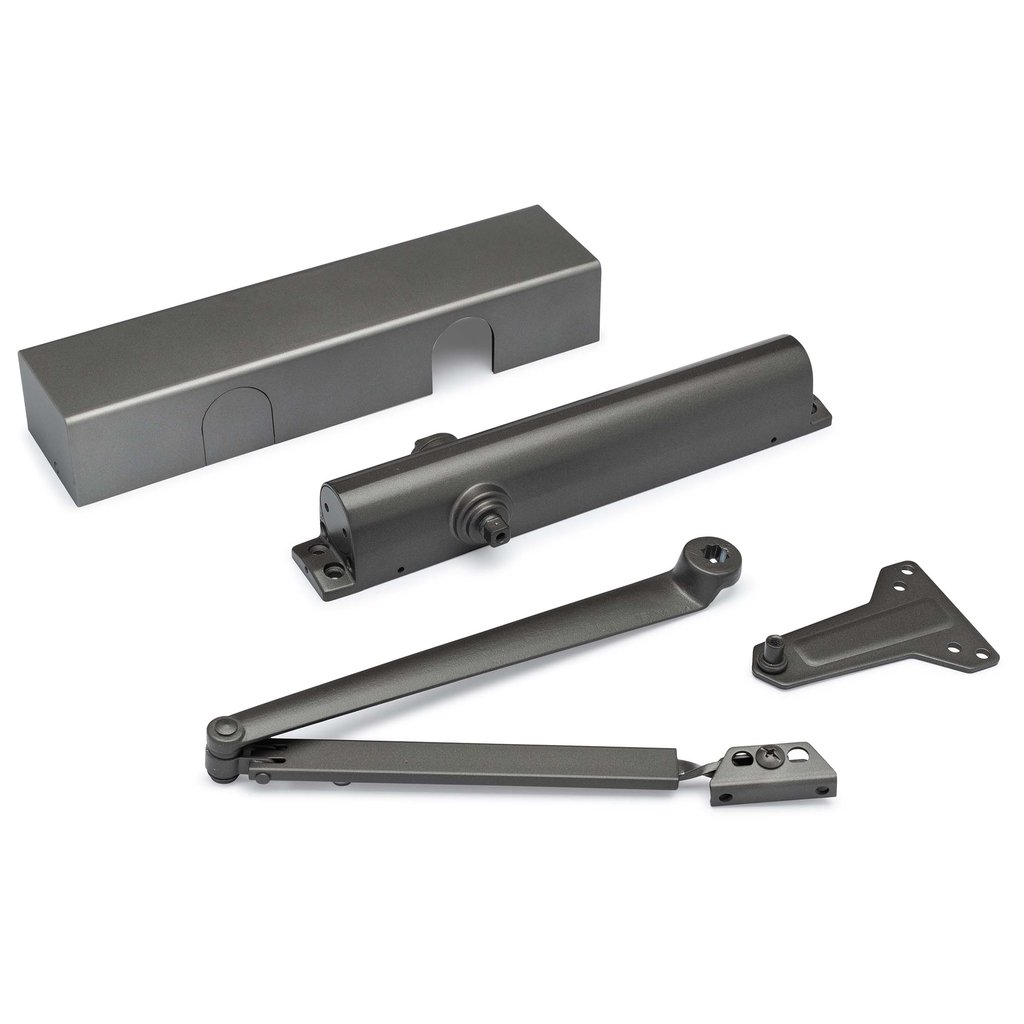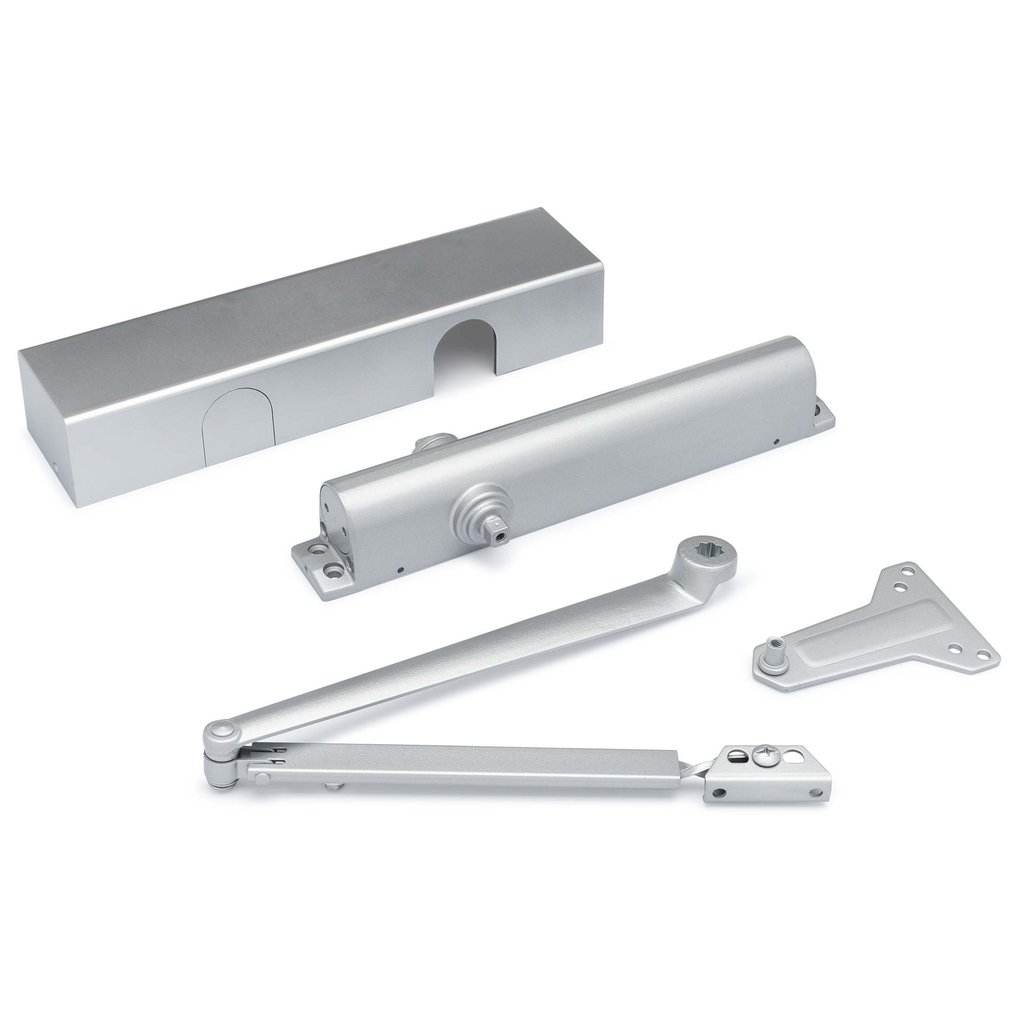 Non-Handed
Residential Grade ANSI A156.4 Grade 3
UL 10C Fire Rated
Fixed Spring Power 2
For Regular Or Top Jamb Applications
Commercial Hydraulic Door Closer Is 156.4 Grade 1 ANSI Certified And UL 10C Fire Rated
ADA Compliant.
Adjustable Power Size 1-4 Requires Less Than 5 Pounds Of Force To Open
Standard Features Include: Adjustable Sweep, Latching. And Back Check Speeds
Includes Hardware For Regular Arm Top Jamb And Parallel Arm Applications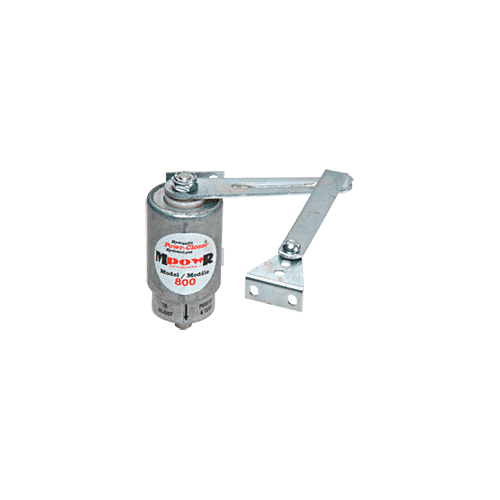 For Use on Lightweight Interior Screen or Storm Doors – Maximum Weight 35 Lbs. (16 kg) This CRL Rotary Hydraulic Door Closer is designed specifically for lightweight screen or storm doors. It is only 3-3/4″ (95 mm) high, 1-3/4″ (44.5 mm) wide, and 2-1/4″ (57 mm) deep. The narrow base holds securely to flush panel doors with the narrowest of stiles. This closer permits a full 180 degree door opening. It has adjustable closing power and life-time lubrication.
Multi-Size Adjustable Spring Power Closers Ranging in Sizes BF 1/2 to 6
Barrier Free and Delayed Action Models to Meet A.D.A. Barrier-Free Requirements
Applicable for Doors Weighing 22 to 330 Lbs. (10 to 150 kg) Aluminum and Dark Bronze Finishes Brite Gold and Chrome Finishes for Restaurants and Upscale Retail Businesses
UL Listed
Closer Body is Completely Concealed in Transom
Concealed Arm and Slide Track in Door
Best Suited for High Profile Applications
A.D.A. Opening Forces to Conform With Barrier Code Requirements While Still Providing Door Control
ANSI A156.4 – Grade 1
UL Listed
This Norton® 7900 Series Overhead Concealed Door Closer provides an aesthetically appealing way to
close a door. In situations where a closer is needed but concealment in the frame header is required or
desired, the Norton® 7900 Closer is the ideal solution for door control. Once installed, only the solid
one-piece arm is visible when the door is open; therefore, this unit provides a high degree of vandal
resistance. When the door is closed, the closer, arm and slide track are fully concealed.
Deltana DC40-GOLD Adjustable Surface Mount Door Closer UL Listed Gold
The set comes with a solid covering to prevent the entry of pollutants into the hardware It can be maintained easily by oiling and servicing the main part time to time It is ideal for both residential as well as commercial space The hardware is absolutely corrosion resistant and can remain as good as after years of use
Adjustable Spring Power Multi-Size Range 1 to 5
Larger Footprint Matches or Covers Existing Hole Patterns UL Listed Each PR50 Series Closer is Conveniently Packaged with Instructions To meet demanding closer specifications, and a need for a larger foot print for matching or covering
existing hole patterns, consider the CRL PR50 Series Surface Mounted Door Closer. The PR50 Series is an ANSI Grade 1, Multi-Size Adjustable Spring Power Closer suitable for doors from 24″ to 54″ (0.61 to 1.37m), and weighing from 33 to 264 lbs. (15 to 120 kg).
Harney Hardware Door Closer Installation Drop Plate for 8900 Series Closers Powder Coated Bronze
 Harney Hardware Door Closer Installation Drop Plate for 8900 Series Closers Powder Coated Bronze
Operating as a door repair and installation company, we at the Rochester Door Company are masters in solving all kinds of door-related tasks. Equipped with the best of the best, whether that is our team or materials, we strive to offer quality service to our valued customers. Situated in Rochester, New York, we are available to serve you 24/7, just give us a call!